Archive for the 'Running' Category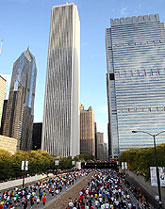 Well folks, we are less than a week away from the Chicago Marathon. Amy and I have been training for nearly 18 weeks specifically for this race coming off the Illinois Marathon 1/2 marathon and Mattoon triathlon this summer.
I'm eager to beat on the streets of this great city after several years off of marathoning. This well run race has always been a favorite of mine.
This will be Amy's first marathon, I hope you'll join me in cheering her on and wishing her luck as she tackles this huge goal.
If you're interested in following our progress in the race you can sign up for runner updates to your mobile device, follow the directions here.
Just Keep Running!