About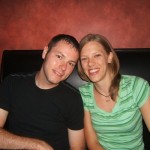 Nick and Amy are missionaries with Reliant Mission on the University of Illinois campus. They work with Illini Life Christian Fellowship to reach out to college students with the good news of Jesus Christ – impacting tomorrow's leaders with the hope of The Gospel.
Both are avid runners, cyclists and aspiring triathletes. Nick can often be found sipping coffee and tweaking computers and network equipment when he is not discipling students. When Amy isn't impacting college students she can be found at an elementary school near their home working with children on communication and speech difficulties.
Nick and Amy love good stories – books, movies, music – and have a passion for seeing all things be made new.