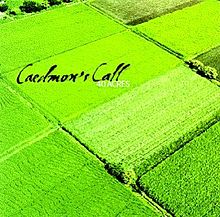 Music has always been an important part of my life. Not that I play any instruments; I simply consume a lot, I always have. I've heard it  said that artists are the prophets of a generation – I think I agree. Some of the greats would being Dylan, the Beatles, Jeff Tweedy and maybe even Justin Bieber (not really though).
The messages that dance melodically into our ears shape the way we think about the world, inspire new vocabulary and raise social issues. At least the good music does.
An album that would make a top 10 list for me is 40 Acres by Caedmon's Call. From start to finish it washes you with truth and honest, heart gripping stories of following God. Not long after I became a Christian I purchased this album. It was a little folksy for me at the time, but I came to love it. Listening to it again recently brought reminders of all the places and things I've been through in the past 12 years.
My response: Thankfulness for a God who walks with me. A needed reminder as I spend so much time on the road raising support.